NLab an industry changing exciting new skin care label launched during May of 2016 with the product line "engineered and crafted to perfection by leading biotechnology".
Designed for women all over the world with various skin types and skin needs NLab opens the door of high end skin care products to all women worldwide.
The idea of "0" zero burden,
Burden less skin was created by Peter Simpson, the creative director of NLab with class leading biotechnology with our brand words in mind "Made perfect by Professionals".
NLab's range of quality products can satisfy every woman's skin needs and desires leaving skin in exudes of unprecedented sparkling radiance.
Setting off the most watched trend of 2016 and beyond!
The conference like a mysterious adventure set in an environment with intricate floral walls and classic tones.
The premiere of four new spectacular products from NLab presented to a select few VIPs and business partners.
The first range of upcoming products was presented by our Head of Product Lines
Mr Bowen
Miracle SC Hyaluronic Primary Serum
Scientifically proven, Miracle SC Hyaluronic Primary Serum is very effective to combat against dry skin also moisturising skin and helping it maintain moisture.
Epidermal Growth Factor (EGF) will rejuvenate dry and unhealthy skin cells with hydration resulting in happy, bouncy and gorgeous skin and is the essential solution to solve sensitive skin due to dryness.
Rehydrating Clarifying Cream
The cream has a powerful moisturizing and calming effect which maintains the skin's moisture level for prolonged periods of time. Made to relieve allergy symptoms caused by skin drying, an unique non-stick moisturizing formula was developed that absorbs and stores large amounts of water in the skin. Meanwhile locking the moisture on the skin's surface giving skin a firming bouncing touch. Rich in human stem cell revitalizing factors and a cell regeneration function. Solves the fundamental problems of broken, withered and skin cell soothing keeping the skin's moisture level healthy.
Rehydrating Clarifying Sleeping Mask
Rehydrating Clarifying Sleeping Mask Is an water based texturized gel mask that gives the skin an extreme hydrating sense of touch. Gently applied the paste immediately absorbs deep into the skin resulting in nourishing tender skin with clear healthy levels of moisturisation.
This product is suitable for use by pregnant women and women with sensitive skin types.
Perfect Tone-Up Cream
Perfect Tone-Up Cream can be your primary whitening cream with identical effects of CC cream. Colour correction of the perfect tone-up cream allows users to achieve pure white skin achieving same results as makeup. Makeup removal is not required for the perfect tone-up cream offering convenience and freedom and offers a long-term moisturizing skin whitening effect.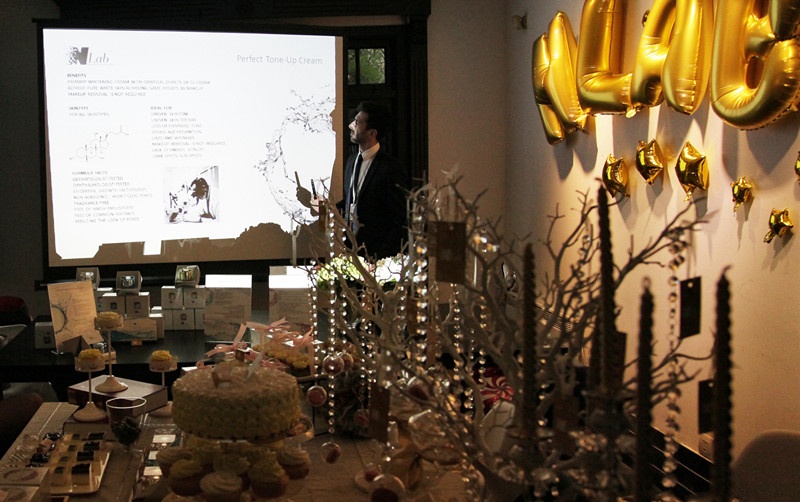 During the presentation Mr Bowen shared our successful results in clinical testing of NLab's product line.
Achieving an excellent result,
89.2% of random users have reported highly noticeable improvement in skin moisturising levels.
65.3% of random users have reported improved skin tones, skin feel and shiny and youthful skin after just 8 weeks.